November 17th, over one month after the Society's visit to Exbury, and the late-flowering Nerine Sarniensis are in bloom.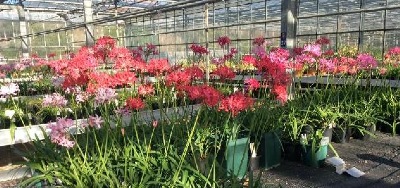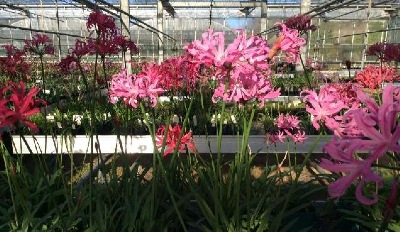 Nerine Sarniensis Rembrandt.

Thank you, member Roy Prior, for the photos.



AGM 4th November

A display of Nerine Sarniensis from Exbury.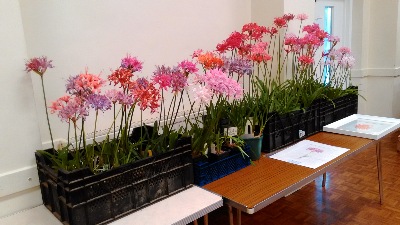 Hardy Nerines from Broadleigh Gardens brought by our speaker, Lady Skelmersdale, who gave a most interesting and beautifully illustrated talk entitled "Summer Flowering Bulbs of the Drakensberg Mountains of South Africa".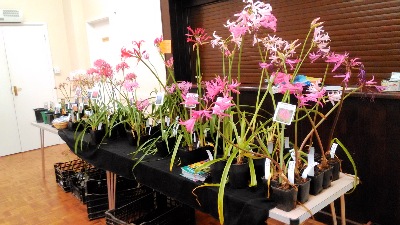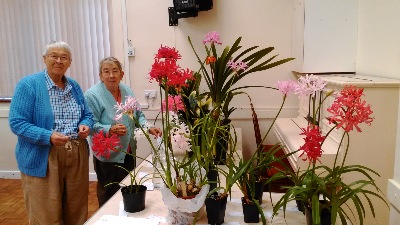 Members Stella and Margaret about to cast their votes for the winner of the 'Beauty Contest'.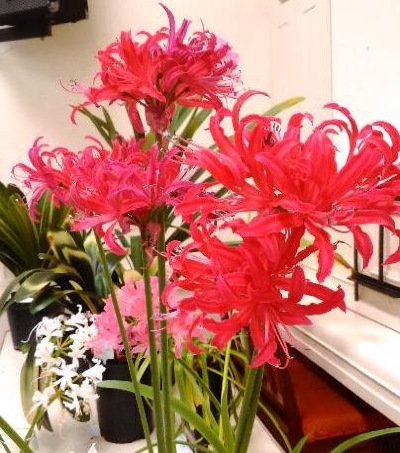 And the winner - a Nerine Sarniensis hybrid belonging to member Mike Jeans.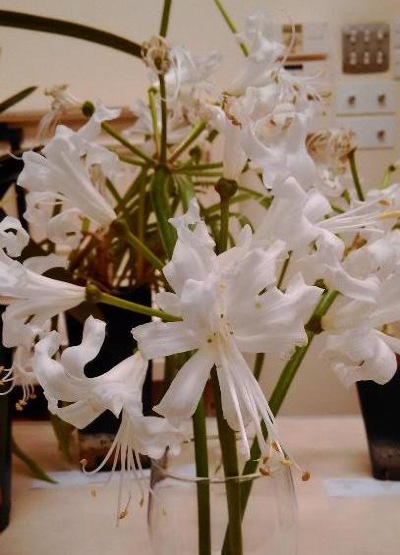 An unusually pure white (no hint of pink) Nerine Bowdenii brought by member John Bumstead.The name is unknown as it had been incorrectly labelled as something quite different when he bought it.

RHS Trial of Nerine Bowdenii at The Patch.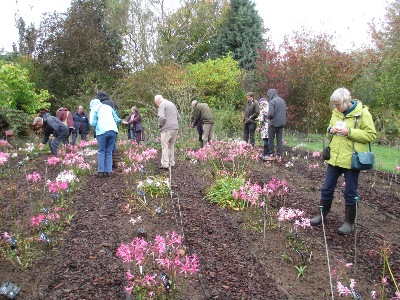 On Sat. 21st October members were invited to view the plants forming part of the RHS Trial at The Patch, the garden of the late Margaret Owen who worked tirelessly for years breeding and promoting Hardy Nerines.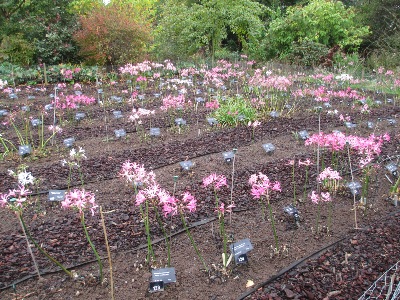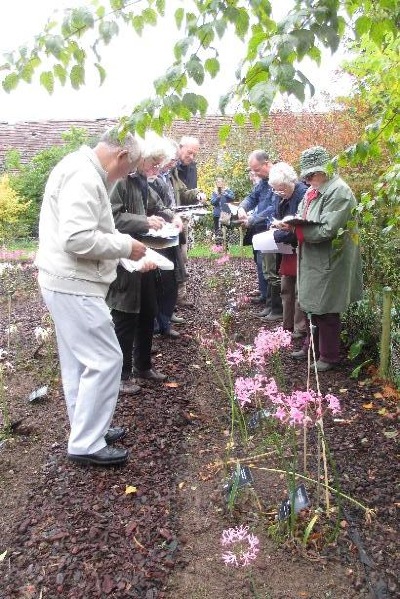 The judging panel assessing how the different varieties have fared in relation to each other and in the climate and conditions of Shropshire compared to those in the Trial at Bramdean, Hampshire.

On Sun.15th Oct. NAAS members were invited to view Ken Hall's Nerines on the Isle of Wight.













The glasshouse contained a magnificent display of Nerine Sarniensis in full bloom.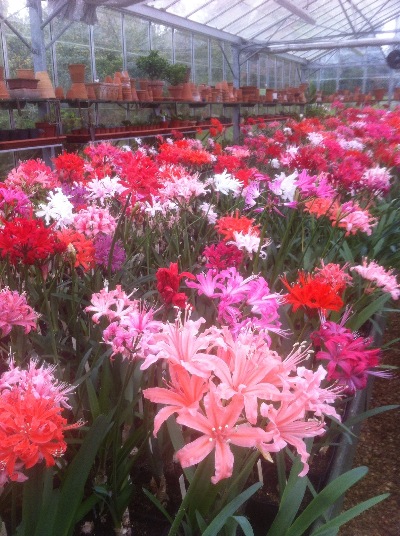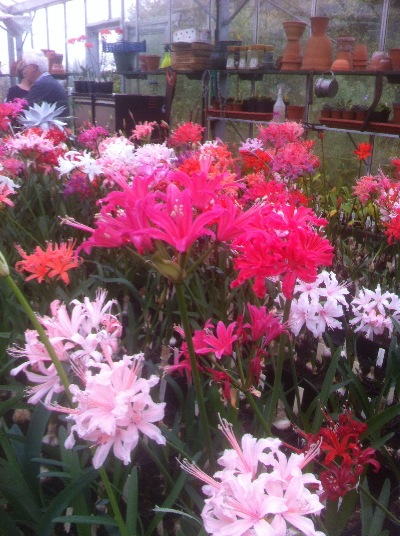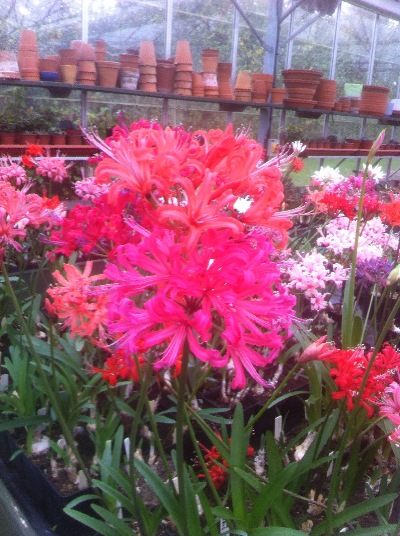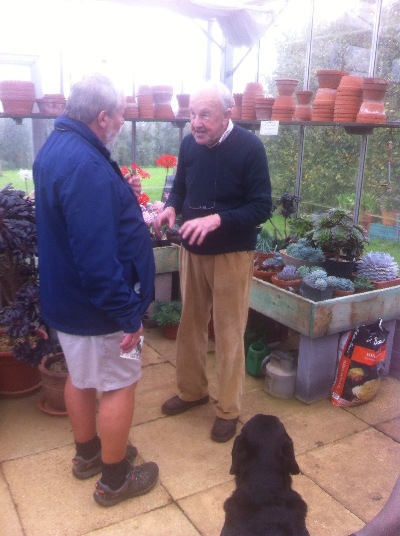 Seen here in conversation with Ken
is Theo Herselman who had come from Exbury ...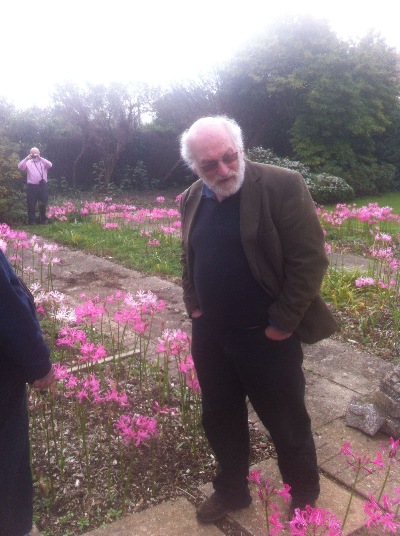 ..... with Nicholas de Rothschild, here looking at some of Ken's many Nerine Bowdenii growing in a number of different beds outside.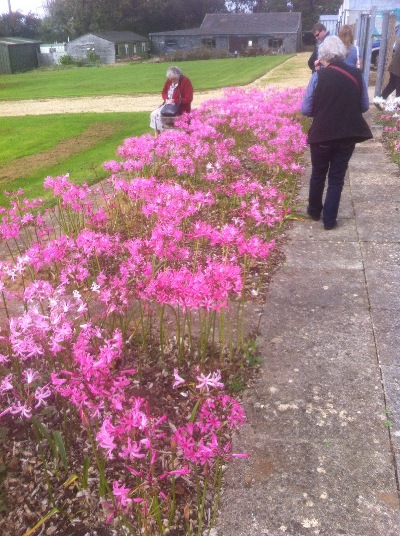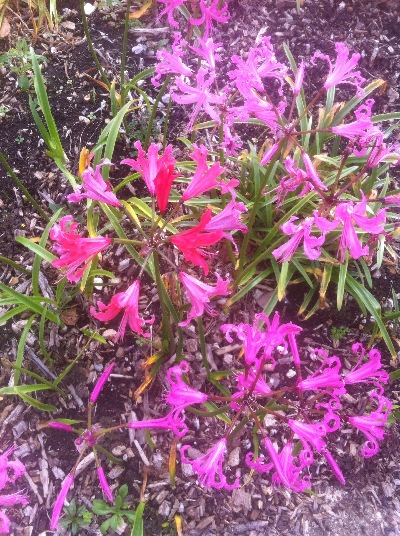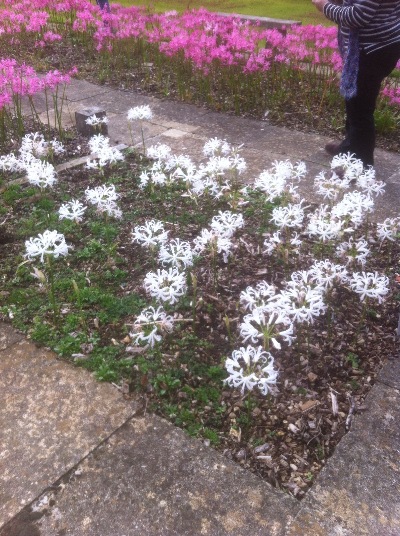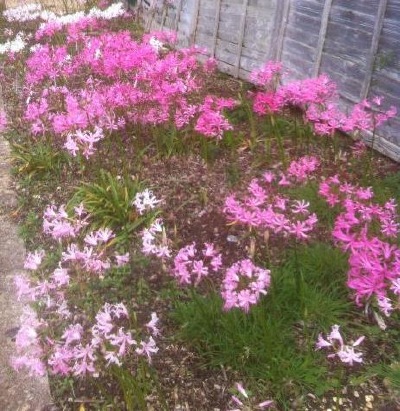 The Society's annual visit to view Nerines at Exbury Gardens started outside the Five Arrows Gallery with a welcome from, L to R, Theo Herselman, Tom Clarke (Head Gardener) and member Bill Squire.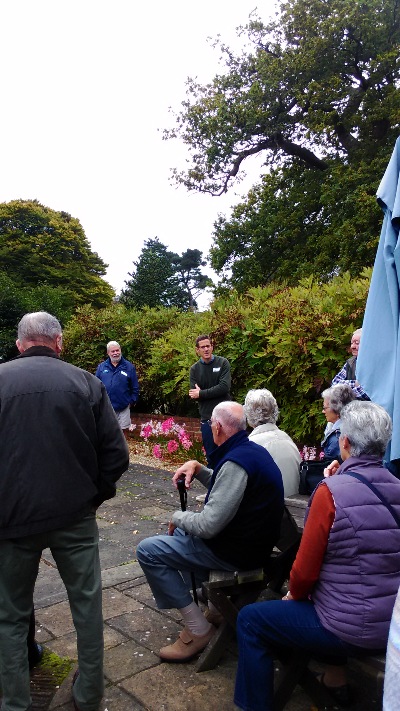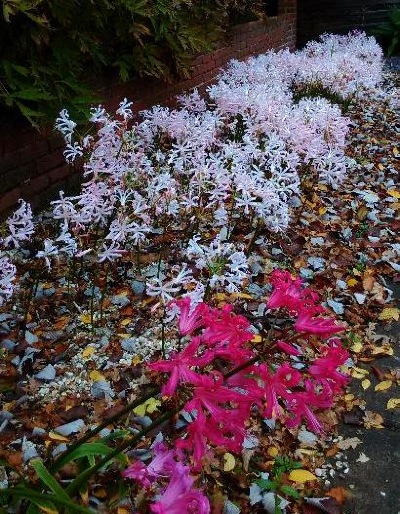 Outside the Gallery, Nerine Bowdenii from the Netherlands are thriving in one border ...











... and in the opposite border Amarine Belladiva bulbs are equally flourishing.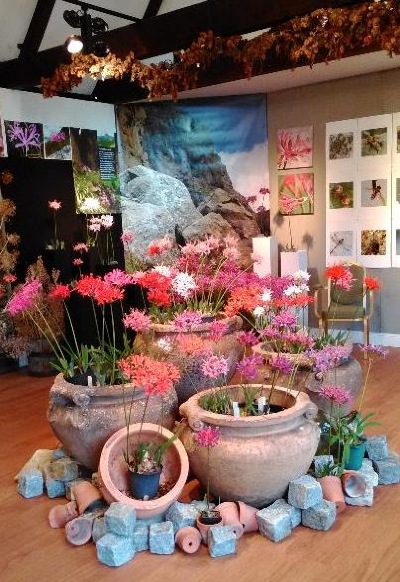 The display inside the Gallery included beautiful examples of Nerine Sarniensis as well as, on the right, intricately detailed photos of minibeasts by Nicholas de Rothschild ...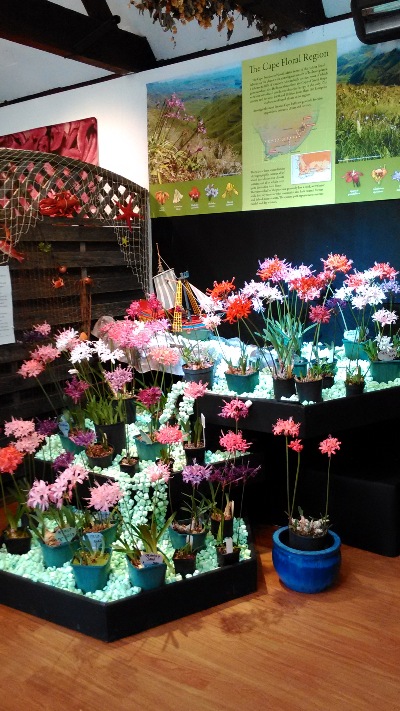 ... and posters providing information about the habitats and development of Nerines.

Some of the glittering petals in close-up ....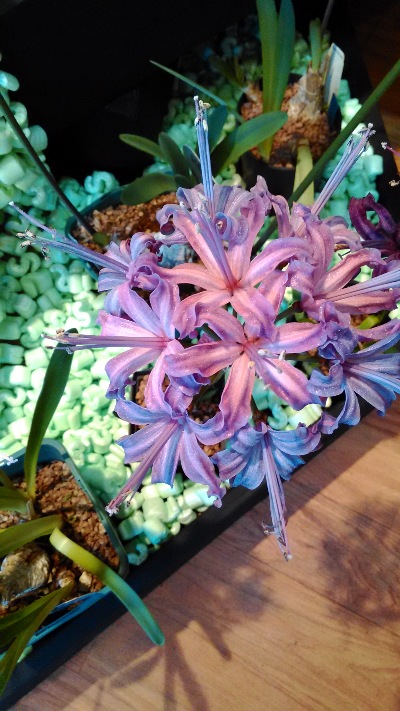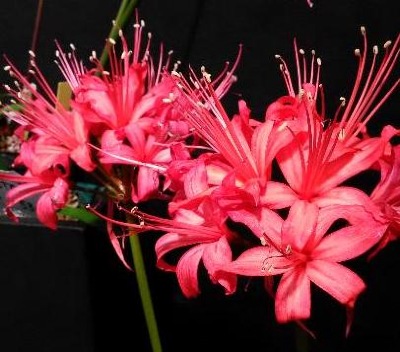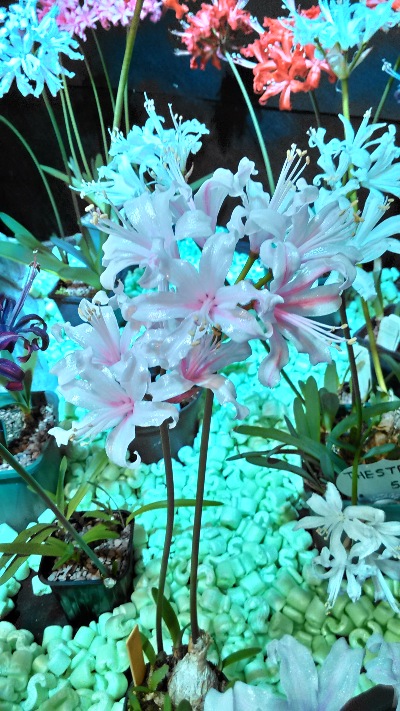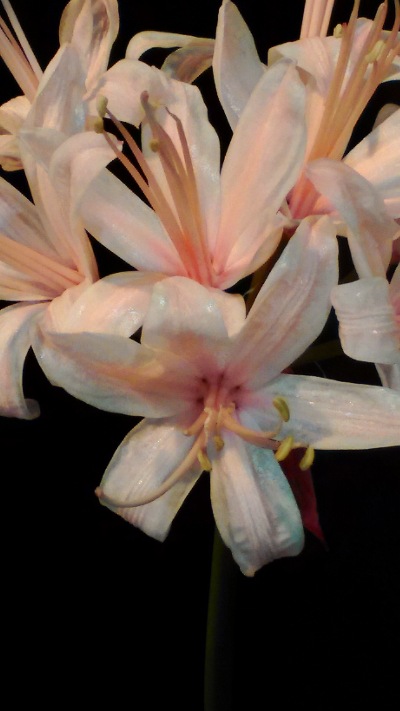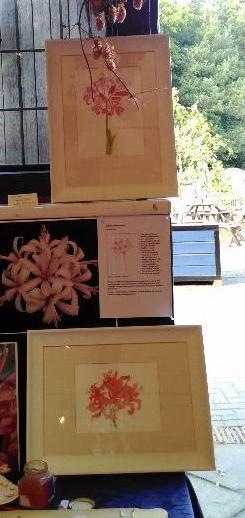 Displayed alongside photographs of Nerine blooms were some wonderfully delicate and meticulously rendered water colour paintings by artist Caroline Rackham, who was at work in the Gallery.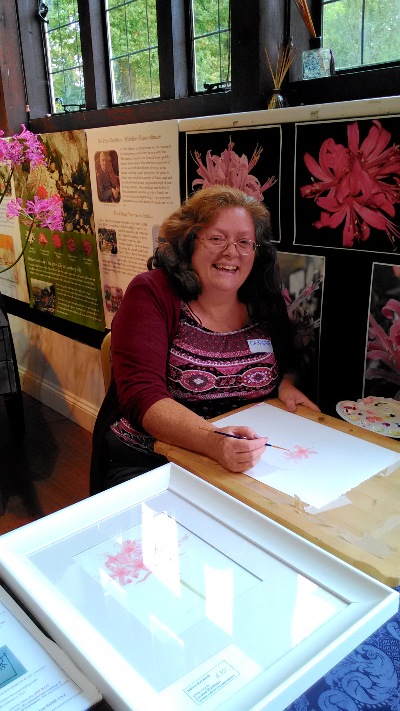 About Nerines Caroline says "This is definitely one of the most complicated flowers I've painted but the flowers are so beautiful it's worth persevering."

For information about her work, Caroline can be contacted by email: caroline.rackham@googlemail.com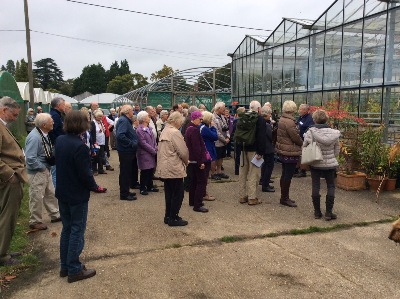 Visitors to the glasshouse being welcomed by Theo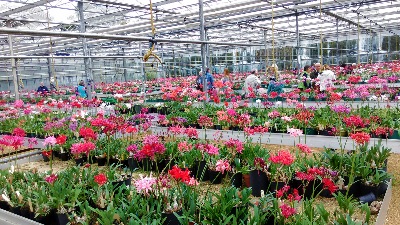 .... before enjoying the opportunity to browse amongst the vast number of plants which includes new seedlings being developed and many well established named varieties.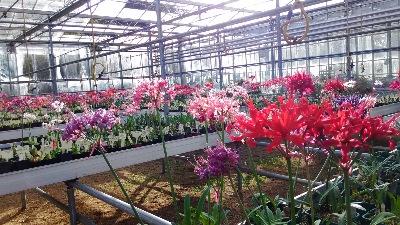 And then the sun came out ...

... and the petals sparkled!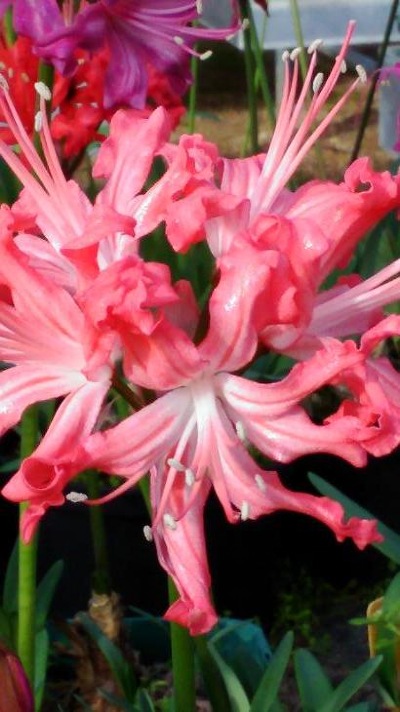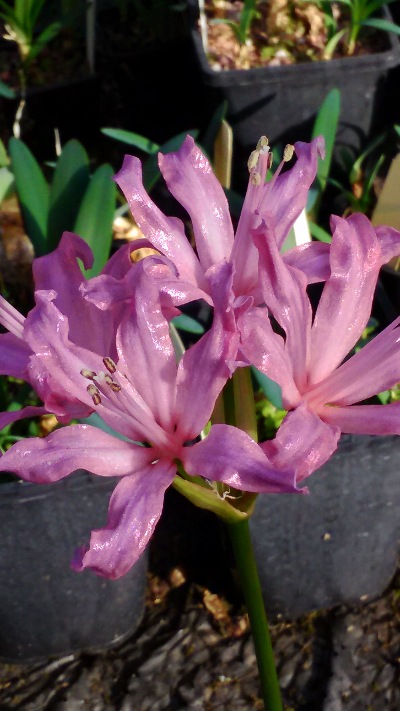 On Fri. 13th Oct. NAAS members were invited to Bramdean by Victoria Wakefield to view Nerine Bowdenii, part of the RHS Trial which concludes this year.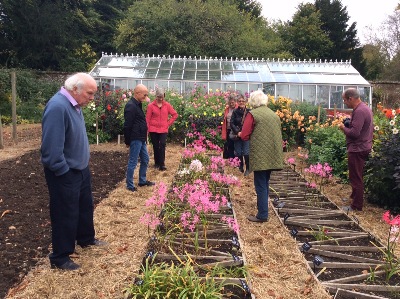 Chris Edwards and other visitors with Victoria looking at the trial beds.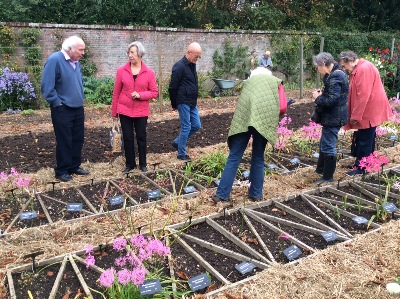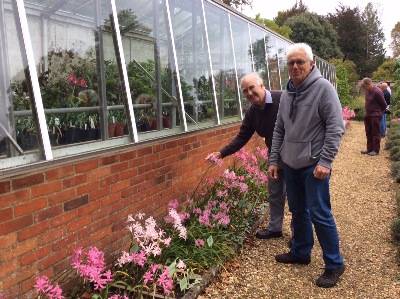 Howard Batchelor with Roy Prior looking at Nerine Bowdenii outside the glasshouse ...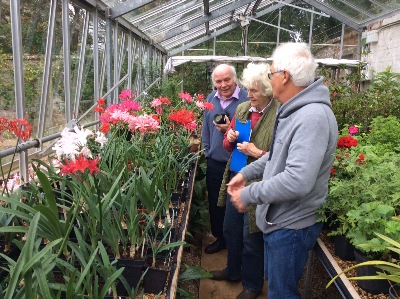 ... and with Victoria and Chris inspecting the Nerine Sarniensis inside.

On Sunday 15th Oct., on his NGS Open Day, 120 visitors came to see Steve's Nerines which were still blooming beautifully!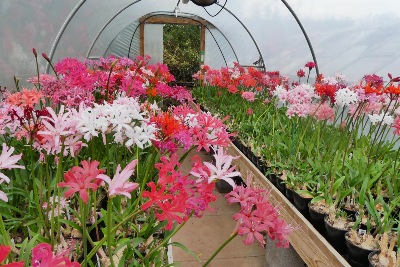 Above and below, views of Steve's collection of Nerine Sarniensis.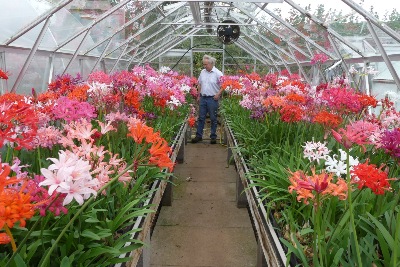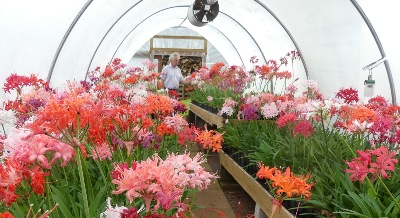 Seedlings bred by Chris Edwards, now in Steve's care.

Visit on Oct. 7th to Bickham to view Steve Eyre's National Collections of Nerine Sarniensis and Nerine Bowdenii.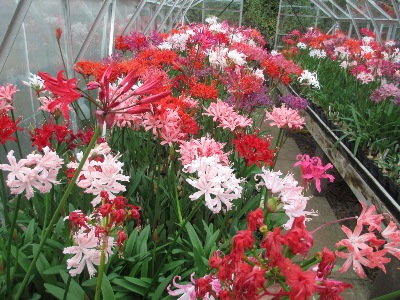 A view of some of the magnificent Nerine Sarniensis blooms in Steve's collection.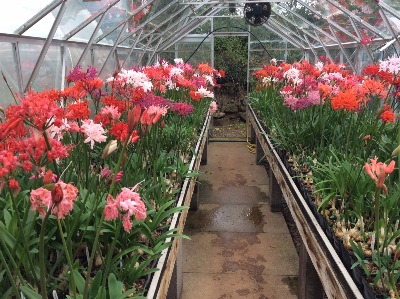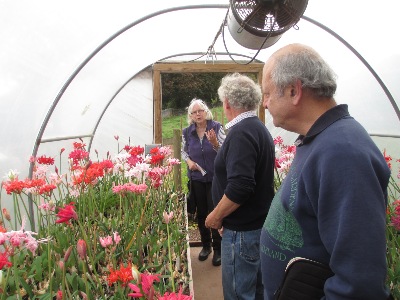 New member Susyn Andrews discussing the plants with Steve.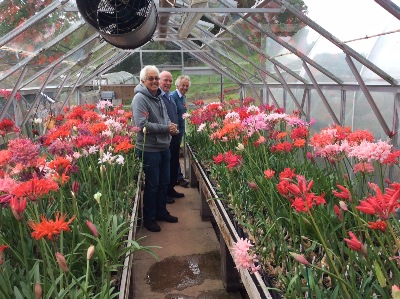 Earlier visitors had included Chris Edwards and member Howard Batchelor, here with Steve.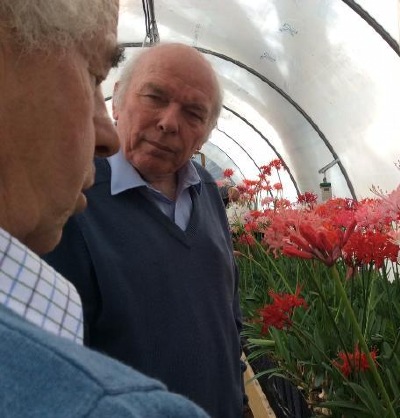 Deep discussion between the experts!

Many of the plants now in Steve's capable hands were seedlings bred by Chris.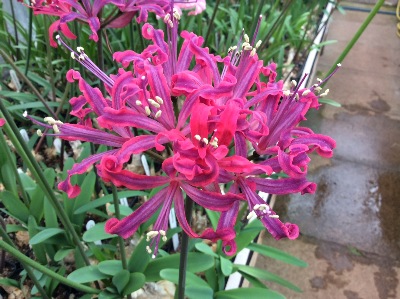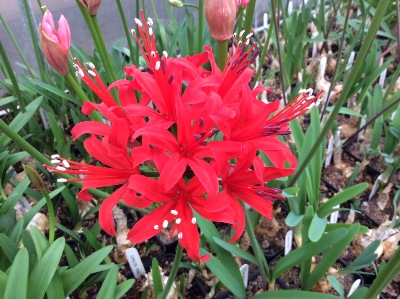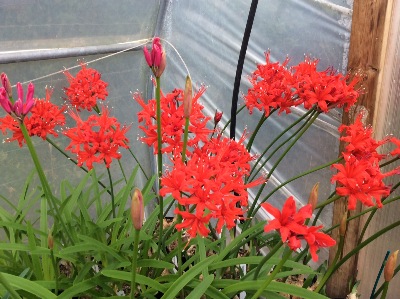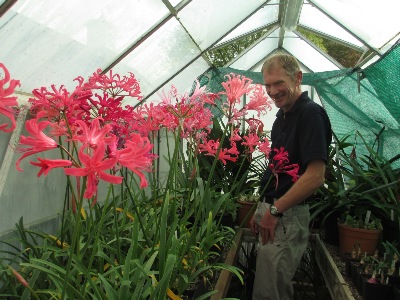 Member Jonny Hartnell admiring a group of Zeal hybrids bred by Terry Jones and Yealm 'King', Queen' and 'Seashell' bred by Dr. Marion Wood.



Steve and Jonny in discussion about Nerine Bowdenii varieties.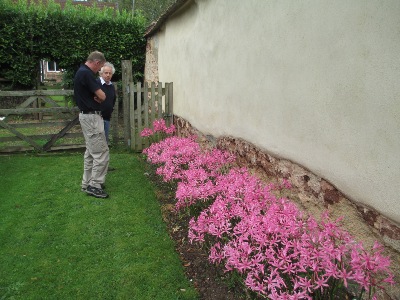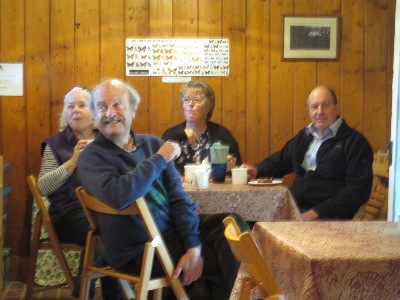 Visitors, including members Chris Lane and Susyn Andrews, enjoying tea provided by Lynne.

RHS Malvern Show

Gold Medal for NAAS!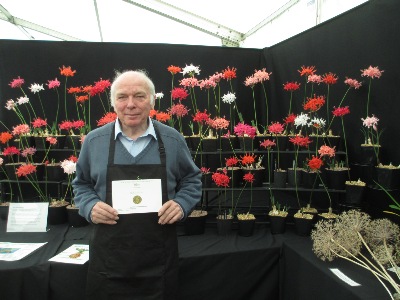 Many congratulations to the NAAS team on being awarded another Gold Medal, proudly displayed by member and expert Nerine Sarniensis grower Chris Edwards.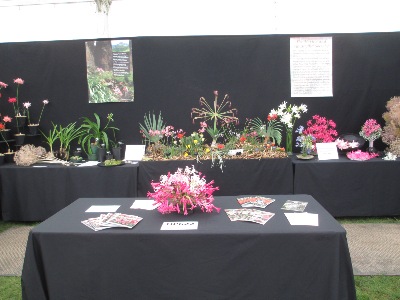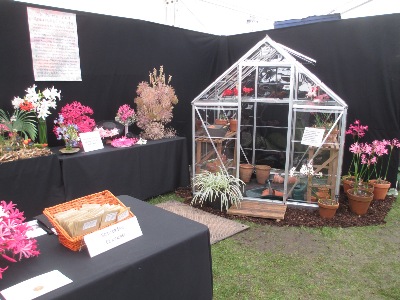 This year's stand incorporated a small greenhouse to demonstrate that Nerine Bowdenii are hardy and that N. Sarniensis need protection.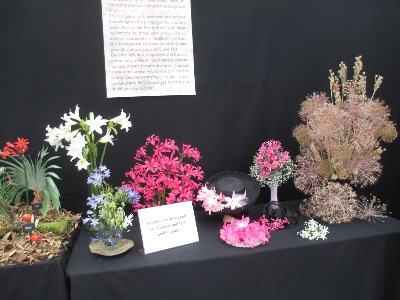 Some delightful arrangements by Sue Bedwell showed the use of a variety of Amaryllid blooms as cut flowers.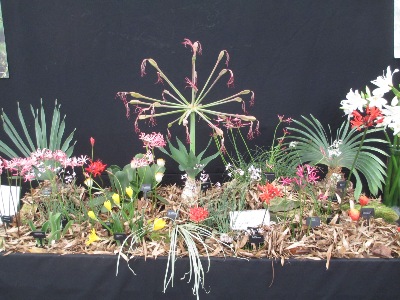 The colourful and varied display of Amaryllids other than Nerines included the rare, huge Brunsvigia Litoralis forming a seed head, lent by Steve Hickman.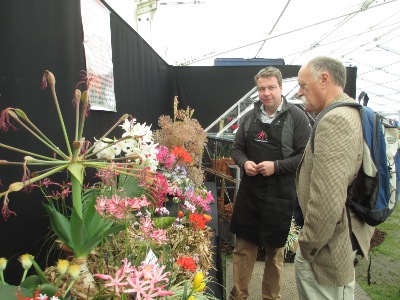 NAAS member Anthony Hopkins welcoming a visitor to the stand.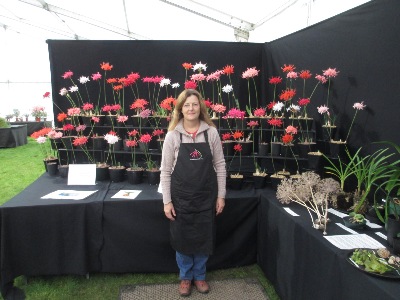 And the other new feature, aprons with the new logo designed by our Secretary and modelled here by Caroline Stone in front of a beautiful display of N. Sarniensis.

Hampton Court Flower Show

More congratulations to our NAAS members Chris and Lorraine Birchall (Tale Valley Nursery), Chris Osbourne (Kelnan Plants) and Steve Hickman (Hoyland Plant Centre) who were all awarded Gold Medals at Hampton Court Flower Show.



RHS Chatsworth Flower Show

Many congratulations to NAAS member Steve Hickman owner of Hoyland Plant Centre on receiving the RHS award of Master Grower.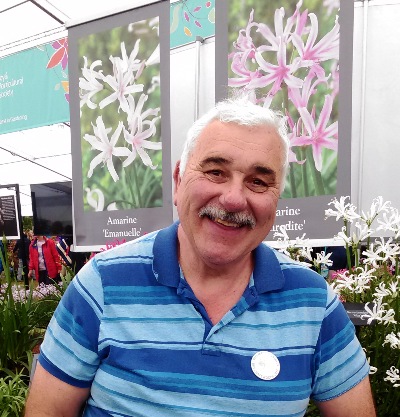 "RHS Master Grower celebrates peerless nurseries that are exemplary in all aspects of their business practice, singling them out for much deserved attention. Master Growers grow or propagate the majority of their plant material using ethical and sustainable practices. The accolade may be awarded to those who propagate unusual plant material catering for the serious hobby gardener, as well as those who grow excellent quality garden worthy plants for sale."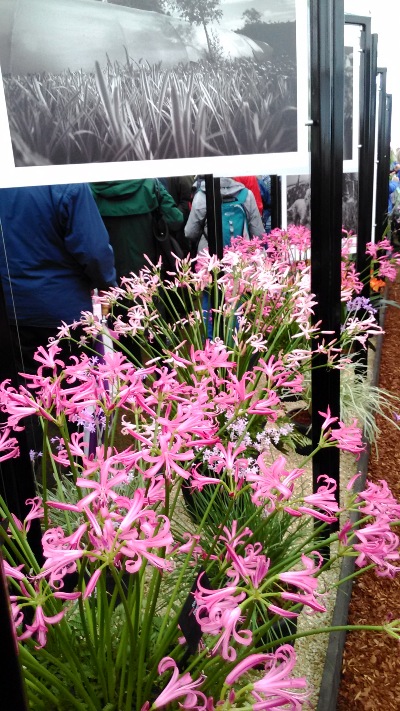 The Hoyland Plant Centre display included photographs and information about the nursery with magnificent examples of Nerines, Amarines and Agapanthus amongst the plants and blooms associated with the nursery.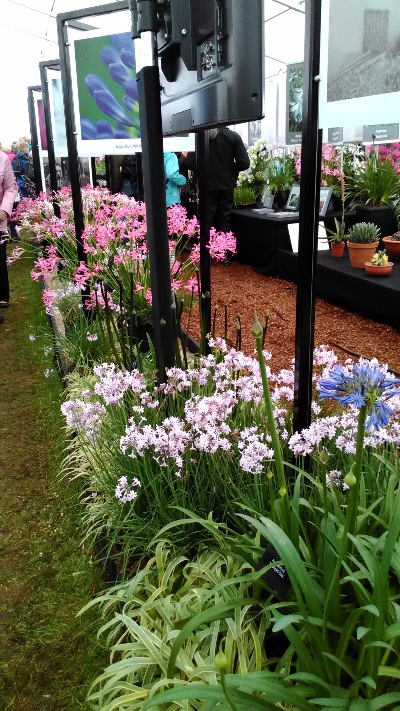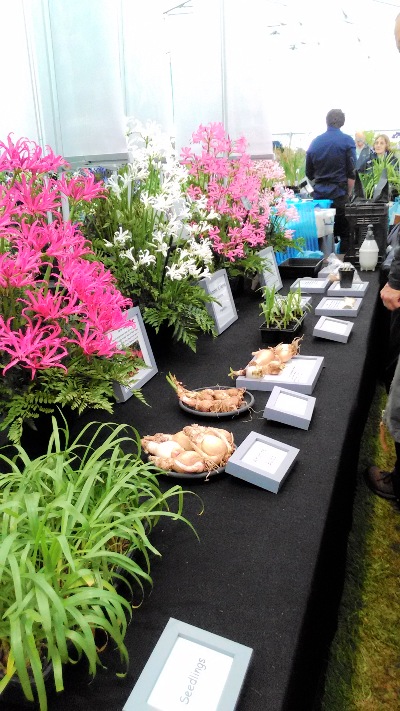 In front of the flower displays was information about methods of propagation with many examples of seedlings, bulbs and the technique of 'chipping'.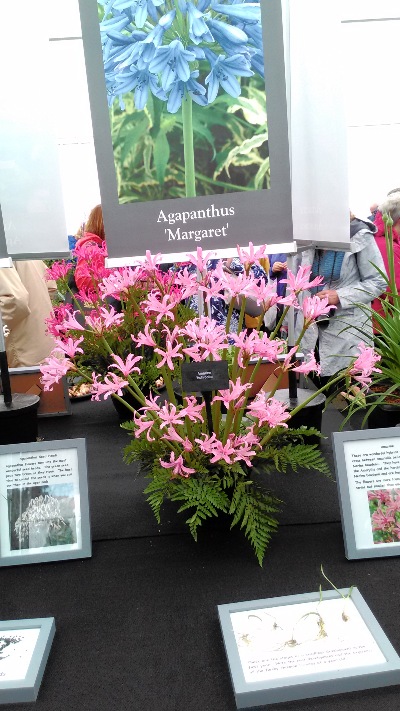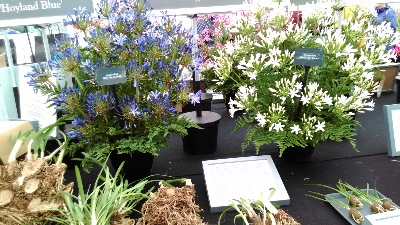 Examples of propagation of Agapanthus by division of the parent plant.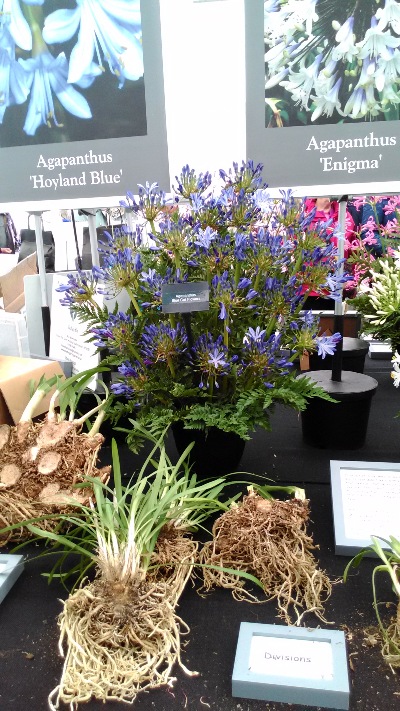 Steve's display and his nursery were featured by the BBC in 'Gardeners' World'.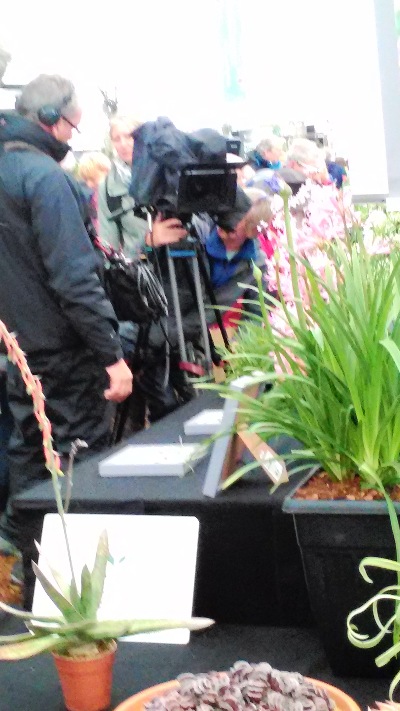 R.H.S. Chelsea Flower Show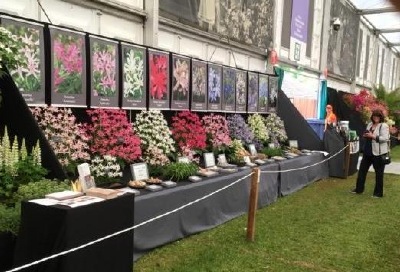 Congratulations to member Steve Hickman at Hoyland Plant Centre,
who won a Gold Medal at this year's Chelsea Flower Show for his superb display of Nerines and Agapanthus.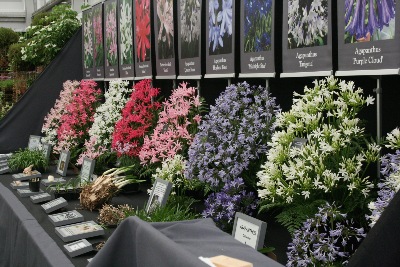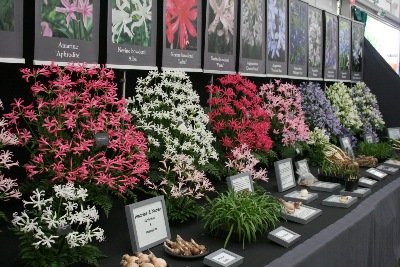 In front of the magnificent displays of blooms are examples of bulbs and propagation, including the technique of 'chipping'.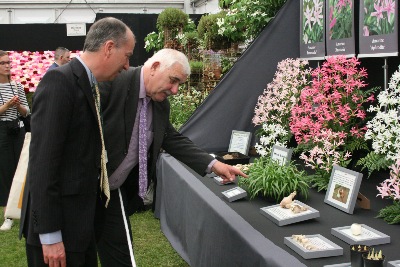 Steve Hickman pointing out items of interest to Dr. John David, fellow NAAS member and botanical expert with the RHS.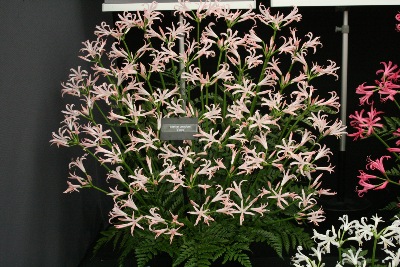 Nerine Bowdenii 'Vesta'.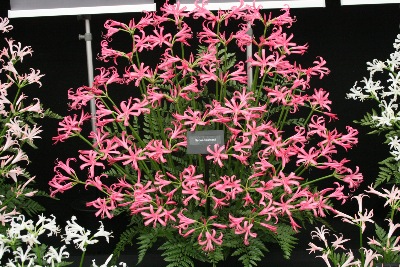 Nerine Bowdenii.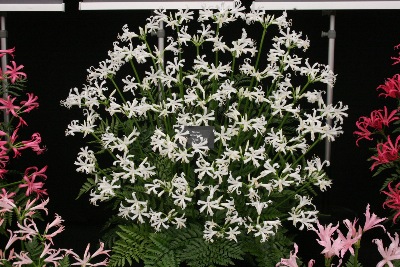 Nerine Bowdenii 'Alba'.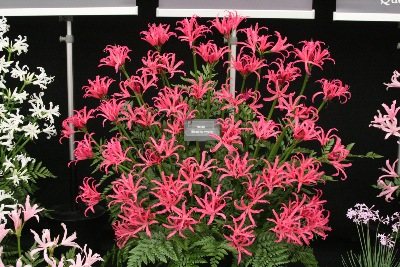 Nerine 'Elegance Hybrid'.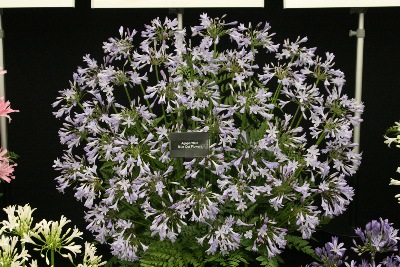 Agapanthus Blue Cut Flowers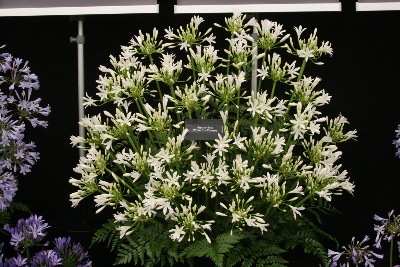 Agapanthus White Cut Flowers.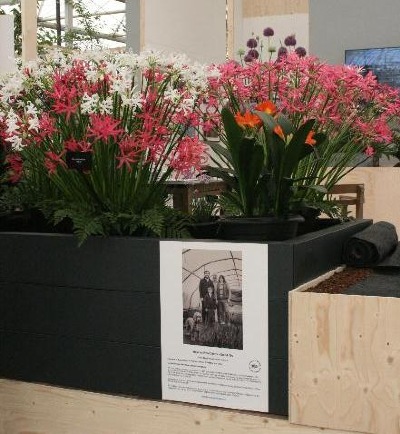 Blooms used by Steve in his Masterclass .......




....... and a photo of Steve's family, who all contribute to the success of Hoyland Plants.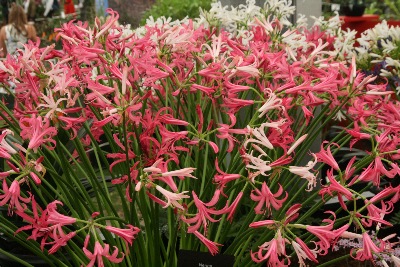 Other NAAS members who exhibited at Chelsea and enjoyed Gold Medal success were Chris Osbourne (Kelnan Plants) and Chris and Lorraine Birchall (Tale Valley Nursery).

Congratulations to them all!

Visit to Coughton Court Garden to view, particularly, the Throckmorton Collection of daffodils, Sun. 9th April.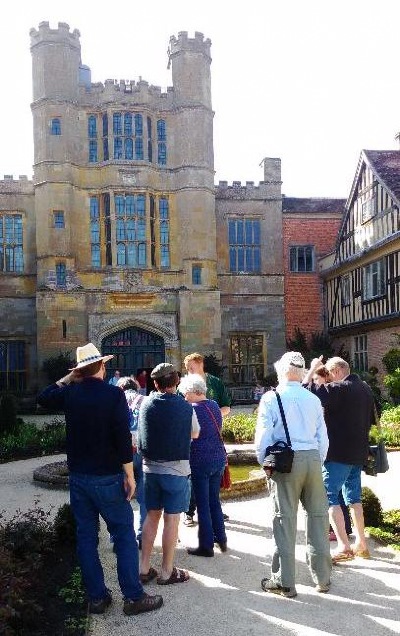 NAAS members being welcomed by the Head Gardener to Coughton Court where the Throckmorton family have lived for over 600 years.

Although the house is now managed day to day by the National Trust, Mrs Clare McLaren-Throckmorton and her daughter Christina Williamson, still manage the beautiful gardens which they have planned and developed over the years.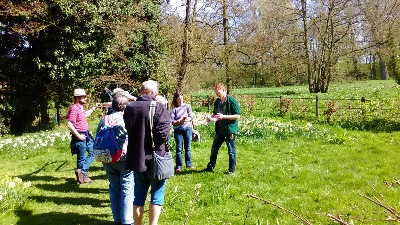 Introduction to the Throckmorton Collection of Daffodils.


The Daffodil Garden was opened in 2009 to celebrate the family's 600 years of living at Coughton Court.

It is dedicated entirely to the varieties created in Des Moines, Iowa, by a relative, the late Dr Tom Throckmorton, and brought to Coughton Court by him in 2005.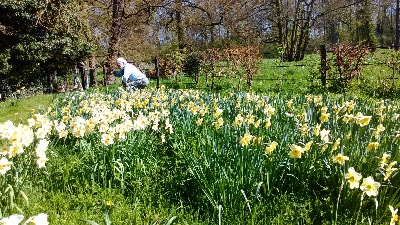 In the centre is a metal sundial, 'The Armillary', donated as part of the millenium celebrations in 2000 by the American Throckmorton family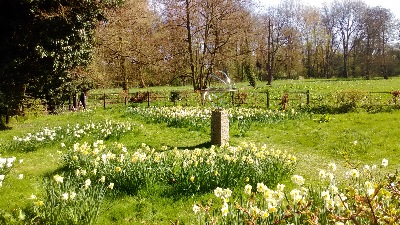 Luckily for our visit, on a day during some unusually warm spring weather, the Throckmorton daffodils were flowering noticeably later than other daffodils in the rest of the garden.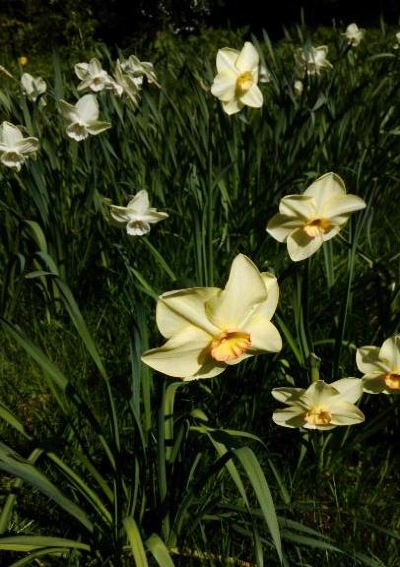 Outside the Daffodil Garden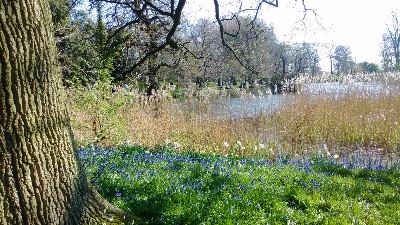 Near the lake, bluebells were replacing the already fading daffodils.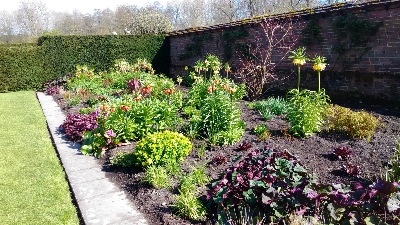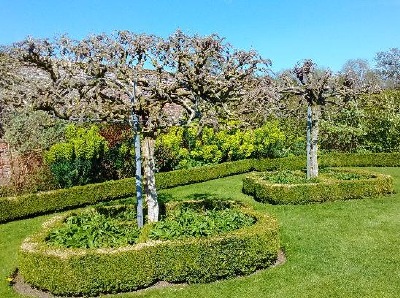 Wistera trained into the form of trees.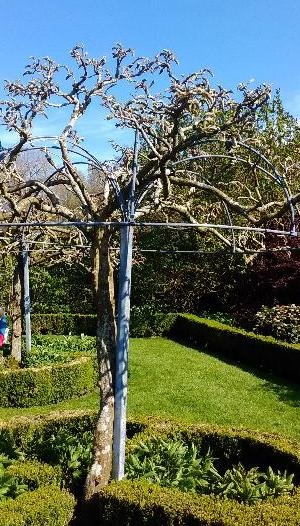 We were just too early to see the effect when in bloom!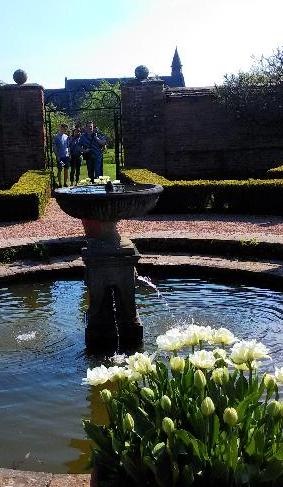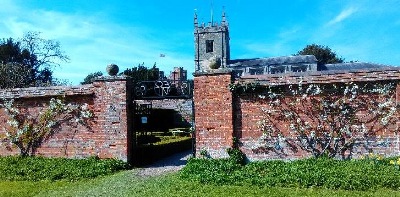 Exhibition of Lachenalias and Orchids in The Five Arrows Gallery at Exbury in March

(Although Lachenalia are not Amaryllids, they are grown by many of our members. They complement ideally the cultivation of Nerines by requiring similar conditions but flowering in Spring, not Autumn.)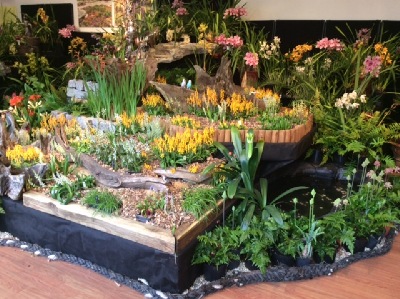 An eye-catching display of lachenalia in shades of yellow and white, with pink, yellow and white orchids displayed behind.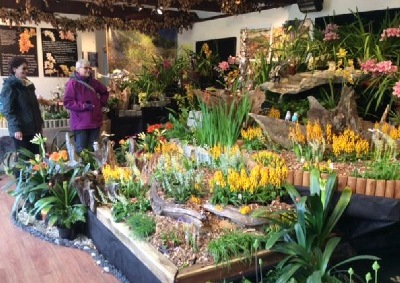 Well-deserved admiration of the display from members of the public.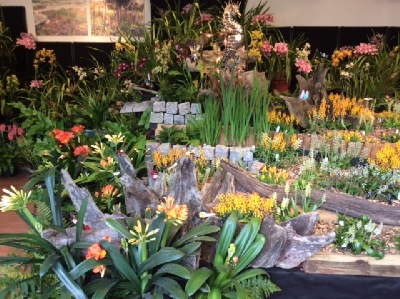 In the foreground, some Clivias - which are members of the Amaryllid family.